My new Cd, especially for women - SHINE !
1. I am beautiful
2. A feeling of joy
3. Let us Shine
4. Be in my Self
5. Carry me further
6. Dear sister
7. Beauty beyond
8. Woman come out
9. Vårsången
10. Let your light


With my music I want to move, strengthen, inspire
and remind you of who you are deep inside…

I have previously also published "Ljusa stigar" ("Paths of light").
Together with Peter I have also recorded the songs for the CD "A feeling of joy".
I have also written the script and much of the music for the musical "Hemstannarna"
("The ones who stayed at home").

You can order the CDs in the store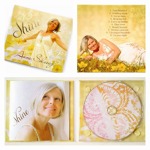 The CD "Shine" is a jewel for me,
…made with so much love.
Inside the cover you will find a small booklet containing all of the lyrics and also instructions on how to do circle dances for several of the songs.

The CD is placed in a beautiful cardboard case and the disc is attached to a plastic tray.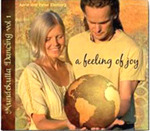 A feeling of Joy
Vocals and music: Anne and Peter Elmberg
The song "A feeling of Joy" was written by me, or rather it came through me in a dream....and is now one of our greatest hits.... that is being sung and danced to on many different occasions.... Also in other parts of the world.

You can order it in the store.
"A million thank you's Anne for your beautiful CD!"
Mia Hasselberg

"Thank you for your beautiful CD! It's so great! I have it in my car and I am singing along to the strengthening songs."
Ulla Christina Berglöf

"Today I turned up the volume really loud on the stereo at work and enjoyed "Shine", and then I continued with "Ljusa stigar" in the car... I think it's obvious that I really like your CDs...I warmly recommend them...."
Gitte Östling

"Ohh how much I play your CD and I often sing the songs while out walking. It has given me soo much."
Ann-Sofi Nilsson

"Helena and I listened to the music and it was really enjoyable. You sing with a nice voice and the lyrics and music is beautiful. A very good experience! Thank you."
Felix Lancelot o Helena Soluna

"Just want to say how much I like your music. It makes me happy.".
Nina Hedberg

"Today women and children at the open preschool have been dancing to your beautiful music "Be proud". The ending was magnificent, as everybody were throwing up thin shawls in the air. Music connects us!"
Mia Hasselberg

"I fell asleep while listening to your wonderful songs and music yesterday... it made me feel so relaxed. I love your music." Katrin Skoglund